The Museum (entry free) and Coffee Shop will normally open as follows
but special events may have extended hours :-

09:30 a.m. - 12:30 p.m. Monday - Friday
& 09:30 a.m. - 12:00 p.m. Saturday
Closed Sunday
Tea, various Coffees, Hot Chocolate, soft drinks, biscuits, toasted Tea Cakes,
Sausage Rolls and locally home made cakes are available at reasonable prices.
There are also special offers most days as well.


There is a convivial atmosphere and a chance to discuss many topics with friends.
Don't forget your FREE 2nd cup of Coffee.

The shop provides a relaxing meeting place for visitors and old/new Verwoodians.
The interaction between the volunteer helpers and the general public makes for a social atmosphere. New volunteers are always needed.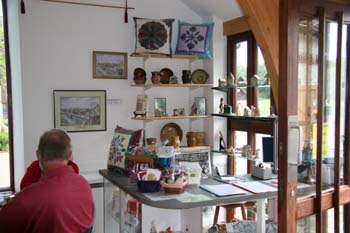 The gift shop has a selection of mainly locally produced goods and also many free leaflets giving information of events and societies in the Verwood Area.