The Museum, Coffee and Gift Shop.
Normally they will open as follows but special events may have extended hours :-
09:30 a.m. - 12:00 p.m. Monday - Saturday


Tea, Filter Coffee, Tea, Hot Chocolate, soft drinks, biscuits and locally home made cakes are available in the Coffee Shop at reasonable prices along with a convivial atmosphere with a chance to discuss many topics. Don't forget your FREE 2nd cup of Coffee.

The shop provides a relaxed meeting place for visitors plus old and new Verwoodians to enjoy a cup and foster a greater understanding of past and present life in this Heathland area of Dorset.

The interaction among the volunteer helpers and the general public makes for a social atmosphere, particularly for those on their own.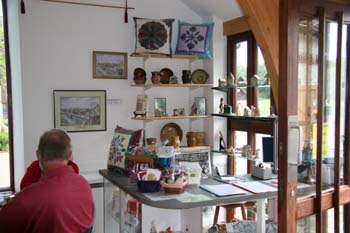 The gift shop has a selection of mainly locally produced goods and also many free leaflets giving information of events and societies in the Verwood Area.